Gas Price Tick as Conferees Work on Tax Bill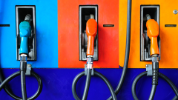 While House and Senate leaders continue work on a bill that would raise the gas tax, AAA reported that gas prices in Massachusetts rose an average of two cents per gallon over the past week, to an average of $3.51 a gallon.  Gas costs are up 9 cents over the past month in Massachusetts, but down about 10 cents per gallon from the average price a year ago.
As part of legislation raising money for transportation investments, the House and Senate have voted to raise the gas tax by 3 cents a gallon and enable the gas tax to rise automatically with inflation.   The gas tax hike is part of broader transportation legislation pending before a House-Senate conference committee.  The Senate's plan, unlike the House, also takes gas tax revenue currently allocated to an underground storage tank removal program and diverts it to transportation.  The tax bill conferees are scheduled to meet this week.